Signalis is a remarkable survival horror game that pays homage to beloved titles such as Resident Evil and Silent Hill while adding its own modern twists. With its isometric camera angle and a captivating storyline set in a dystopian future, Signalis successfully captures the essence of the genre. The game offers a unique blend of intense combat, resource management, and thought-provoking narrative elements that keep players immersed in a world of mystery and terror.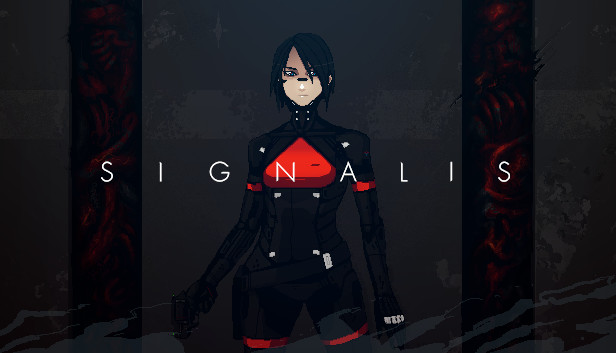 A Futuristic World Ruled by the Eusan Empire
In Signalis, players are transported to a planetary system controlled by the totalitarian Eusan Empire. The Empire employs humanoid androids known as replikas, created from human neural imprints, as both a military force and a labor workforce. As the player assumes the role of Elster, a replika awakened on the planet Penrose-512, the search for her missing partner, Ariane Yeong, uncovers a haunting tale of identity and existentialism.
Battle of Survival: Scarce Resources and Formidable Enemies
Surviving in Signalis is no easy task. Players must navigate a world where ammunition and resources are scarce, forcing them to make difficult choices between confrontation and evasion. The game introduces various enemy types, including the relentless Eules, the skill-demanding STARs, the fast and deadly ARARs, the disruptive Kolibris, and the heavily armored Mynahs. Each encounter poses a significant challenge that requires strategic thinking and mastery of the limited inventory system.
A Distinctive Visual and Narrative Style
Signalis stands out not only for its engaging gameplay but also for its striking aesthetic. Drawing inspiration from anime, particularly works like Ergo Proxy, the game combines an isometric perspective with anime-like visuals in its captivating cutscenes. The industrial and cassette futurism elements further enhance the immersive experience, transporting players to a world reminiscent of 90s anime.
Exploring Lovecraftian Themes and Existentialism
Signalis delves deep into Lovecraftian horror and existential themes, providing players with a thought-provoking narrative that raises questions about identity, love, and the nature of existence. The presence of "The King In Yellow," a book with ties to H.P. Lovecraft, adds layers of mystery and intrigue to the storyline. The game invites players to unravel its secrets and draw their own conclusions, ensuring a memorable and impactful experience.
Signalis is a testament to the enduring appeal of classic survival horror games. With its atmospheric setting, challenging gameplay, and thoughtfully crafted narrative, it delivers an immersive and unforgettable journey into a world of terror and despair.
Based on the entities mentioned, here are some frequently asked questions (FAQs) that could provide the information we need:
Frequently Asked Questions
What is Signalis and when was it released?

Signalis is a survival horror game influenced by classic titles like Resident Evil and Silent Hill. It features an isometric camera angle and modern tweaks like walking while shooting. The game's release date, platforms, and critical reception can be found by checking reputable gaming websites or platforms like Steam.

Who developed Signalis?

To find out the developer of Signalis, refer to reliable gaming sources, official game websites, or platforms like Steam. These sources should provide information about the development studio behind the game.

What are the enemies and weapons in Signalis?

Signalis features various enemies called replikas, including Eules, STARs, ARARs, Kolibris, and Mynahs. The game also offers a range of weapons like shotguns, pistols, magnums, burst fire SMGs, stun batons, and heavy shotguns. For more specific details and strategies, consult game reviews, forums, or guides dedicated to Signalis.

What are the inspirations behind Signalis' setting and visual style?

Signalis draws inspiration from classic survival horror games, as well as anime and films like Ergo Proxy and Stanley Kubrick's works. The game incorporates an anime-like visual style in its cutscenes and features elements of industrial and cassette futurism. Exploring discussions, reviews, or developer interviews may provide more insights into the specific inspirations and artistic choices in Signalis.

What is the significance of "The King In Yellow" in Signalis?

"The King In Yellow" is a book mentioned in Signalis, which has connections to H.P. Lovecraft and plays a role in the game's narrative. To understand its significance, it may be helpful to explore Lovecraftian horror, existential themes, and related discussions or analyses of Signalis. Investigating fan theories, game forums, or online communities dedicated to Signalis could provide more information about the book