Experience the mesmerizing world of video synthesis with Raspberry Pi Zero and RecurBOY. This compact setup, developed by cyberboy666, brings the power of modern video editing and psychedelic effects to the palm of your hand. Say goodbye to bulky equipment and hello to a pocket-sized video DJing experience like no other.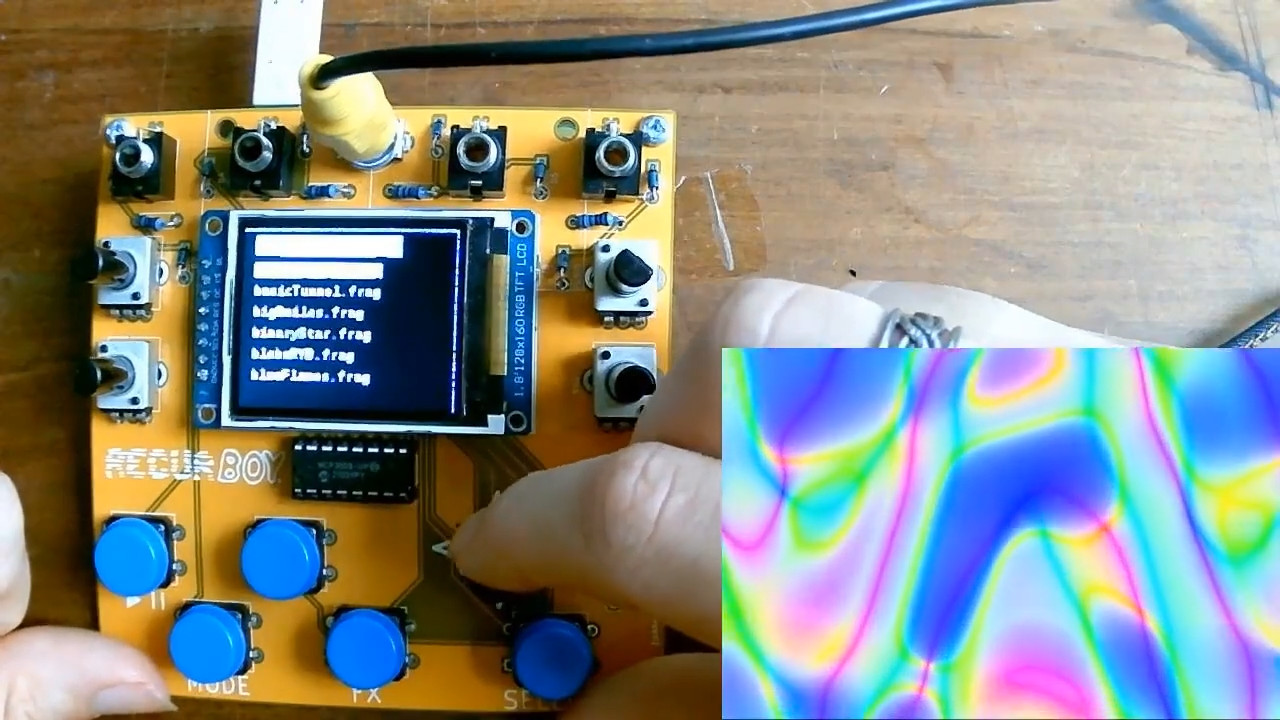 Unleashing the Potential of Raspberry Pi Zero
Raspberry Pi Zero, a credit card-sized computer, serves as the backbone of the recurBOY video synth. Its low cost, small form factor, and impressive capabilities make it the perfect platform for this creative endeavor. With Raspberry Pi Zero, users can unlock a world of possibilities in video editing and manipulation.
Dive into the Four Modes of RecurBOY
RecurBOY offers four distinct modes that will ignite your imagination:
1. Video Mode: Seamlessly play videos directly from the SD card through the recurBOY's composite video out. Prepare to immerse yourself in a visual feast of dynamic imagery.
2. Shader Mode: Program your own shaders using the GLES shader dialect, even on resource-constrained devices. Let your creativity run wild as you design custom visual effects and graphics.
3. Effects Mode: Overlay your shaders onto playing videos, adding an extra layer of depth and uniqueness to your visual compositions. Witness the stunning fusion of pre-recorded content and real-time effects.
4. External Mode: Connect a USB video capture card or webcam to the recurBOY, enabling live camera feed manipulation. Unleash your imagination as you twist and distort reality in real-time.
A Symphony of Analog and Digital
With recurBOY, you can harness the magic of old-school analog video effects alongside digital advancements. The demo video showcases classic analog effects like bloom and RGB separation, while also incorporating cutting-edge digital effects. The real-time control knobs and the possibility of using a MIDI controller add an extra layer of versatility and interactivity to the experience.
Whether you're a seasoned video DJ or a curious enthusiast, recurBOY's blend of nostalgia and innovation will captivate your senses. Step into the world of video synthesis and unleash your creative potential with Raspberry Pi Zero and recurBOY.
Sources: Adafruit, cyberboy666
Here are some frequently asked questions (FAQs) that can provide information about the entities mentioned in the content:
1. Raspberry Pi Zero:
* What is Raspberry Pi Zero and what are its specifications?
* How is Raspberry Pi Zero used in video DJing and video synthesis?
* What are some notable projects or applications of Raspberry Pi Zero in the field?
2. RecurBOY:
* What is RecurBOY and what are its key features?
* How does RecurBOY enable video synthesis and effects?
* Can RecurBOY be customized or programmed for specific visual effects?
3. cyberboy666:
* Who is cyberboy666 and what is their background in video synthesis or related fields?
* What other projects or contributions has cyberboy666 made in the realm of video synthesis?
* Are there any online communities or forums where cyberboy666 actively participates or shares their work?
4. Scanimate:
* What is the Scanimate and why is it considered significant in the pre-digital era of video effects?
* How does the Scanimate compare to modern video synthesis techniques and equipment?
* Are there any notable examples or works created using the Scanimate?
5. VGA/composite converter:
* What is a VGA/composite converter and how does it function?
* How can a VGA/composite converter be used for glitching video or manipulating visuals?
* Are there any specific techniques or tutorials available for utilizing a VGA/composite converter for video effects?
By exploring these questions and seeking answers from reputable sources such as Wikipedia, Reddit, Yelp, and Quora, we can gather more detailed information about the entities mentioned in the content and enhance our understanding of video DJing, video synthesis, and related technologies.