As the NFL Draft took place, two college football players caught the attention of scouts and analysts alike. Purdue wide receiver and returner Charlie Jones, and Illinois running back Chase Brown, showcased their exceptional skills and inspiring stories, earning them spots in the professional league.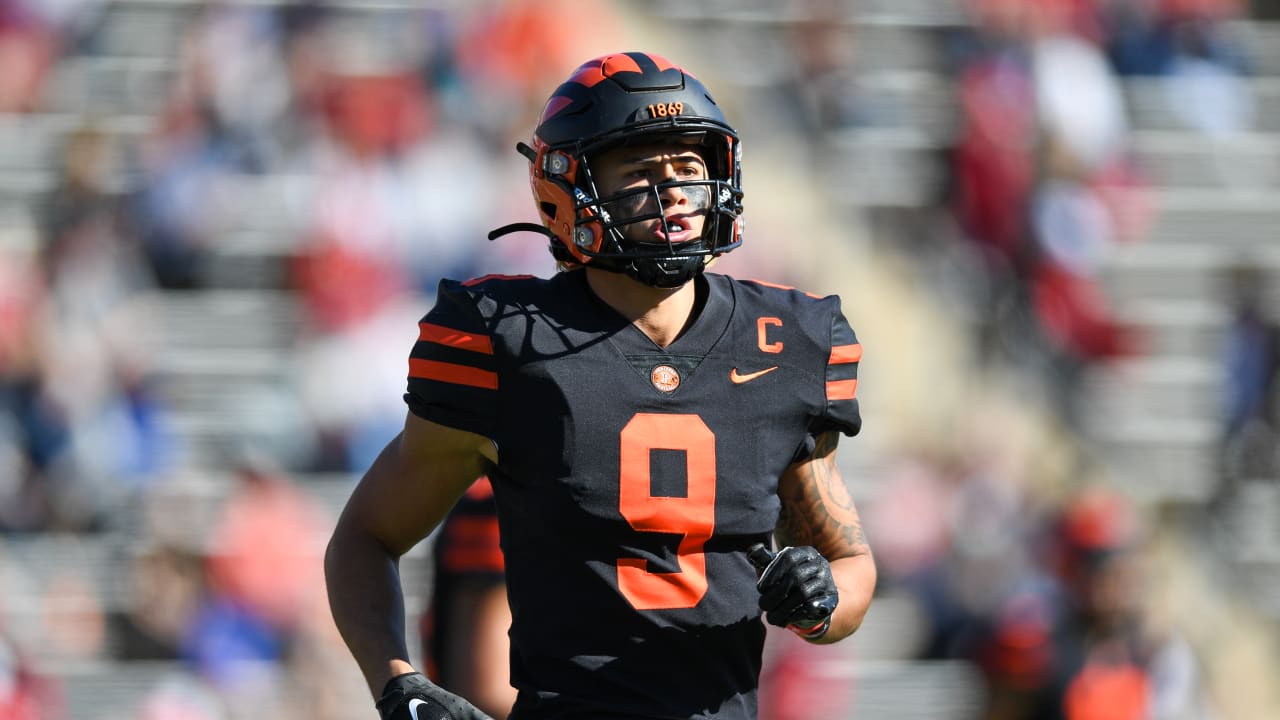 Charlie Jones: The Determined Receiver and Return Specialist
Charlie Jones, with his impressive speed and great hands, emerged as a standout player during his college career. He began his journey at Buffalo before making a bold decision to transfer to Iowa as a walk-on. Jones bet on himself again when he reunited with his childhood friend, Aidan O'Connell, at Purdue. Their chemistry off the field translated into on-field success, with Jones becoming the nation's leading receiver with 110 catches. Additionally, his prowess as a returner, evident from his performances at Iowa, makes him a potential starting NFL return specialist.
Chase Brown: Overcoming Obstacles with Unyielding Work Ethic
Chase Brown's story is one of resilience and determination. Growing up in London, Ontario, he and his twin brother, Sydney, faced homelessness. However, their unwavering work ethic and tight-knit family unit propelled them forward. While Sydney, a versatile safety, was drafted by the Eagles, Chase impressed scouts with his outstanding performance as a running back. He achieved two 1,000-yard seasons and showcased remarkable athleticism at the combine, boasting the best vertical leap, broad jump, and an impressive 40-yard dash time. Brown's versatility, agility, and ability to stretch plays make him an exciting prospect with starting potential in the NFL.
A Promising Future
Both Jones and Brown possess the intangible qualities that NFL teams desire. Jones' determination and ability to triple his career production at Purdue, coupled with his special teams expertise, make him a valuable asset. Brown's relentless work ethic, leadership qualities, and understanding of the game, along with his explosive running style, position him as a potential starter at the professional level.
As the NFL teams made their selections, the Bengals secured Charlie Jones in the fourth round, while the Raiders followed suit by picking Aidan O'Connell just two picks later. Chase Brown's emotional moment came in the fifth round when he was chosen, completing an extraordinary journey from homelessness to NFL hopeful.
The future looks bright for Charlie Jones and Chase Brown as they embark on their professional careers. Their determination, skill sets, and personal stories make them rising stars to watch as they continue their football journeys in the NFL.
Based on the entities mentioned, here is a list of frequently asked questions (FAQs) and their corresponding answers that could provide the information you need:
1. **FAQ**: Who is Charlie Jones and what are his achievements in football?
* **Answer**: Charlie Jones is a wide receiver and returner from Purdue. He showcased impressive skills, including speed, great hands, and special teams abilities. He achieved recognition as the nation's leading receiver with 110 catches and was named the 2021 Big Ten Special Teams Player of the Year.
2. **FAQ**: Can you provide more details about Aidan O'Connell, the quarterback from Purdue?
* **Answer**: Aidan O'Connell is the quarterback at Purdue University. He formed a strong connection with Charlie Jones, as they were roommates and spent their free time studying and discussing the playbook. O'Connell went on to be selected by the Raiders in the NFL Draft.
3. **FAQ**: What is Chase Brown's background and his notable accomplishments as a running back?
* **Answer**: Chase Brown is a running back from Illinois. He and his identical twin brother, Sydney, overcame homelessness growing up in London, Ontario. Chase is highly regarded for his relentless work ethic, leadership qualities, and intelligence. He had two 1,000-yard seasons in college and showcased outstanding athleticism at the combine with impressive vertical leap, broad jump, and 40-yard dash numbers.
4. **FAQ**: Where did Charlie Jones play college football, and what were his notable contributions?
* **Answer**: Charlie Jones initially played at Buffalo before transferring to Iowa as a walk-on, where he earned a scholarship. He then moved to Purdue and significantly increased his career production, tripling it by week three of his time there. Jones excelled as a receiver and showcased his skills as a kick returner and punt returner, earning recognition as the 2021 Big Ten Special Teams Player of the Year.
Please note that the provided answers are based on the information you provided in Part 1 and Part 2 of the content. The specific details may vary or be expanded upon when conducting further research on platforms like Wikipedia, Reddit, Yelp, or Quora.