GEEKOM and Asus have teamed up to launch a new mini-PC, the AS 6, designed to provide high-performance computing for both work and gaming. Built on an all-AMD platform, the AS 6 offers an impressive boost in graphics performance, thanks to its integrated Radeon 680M graphics.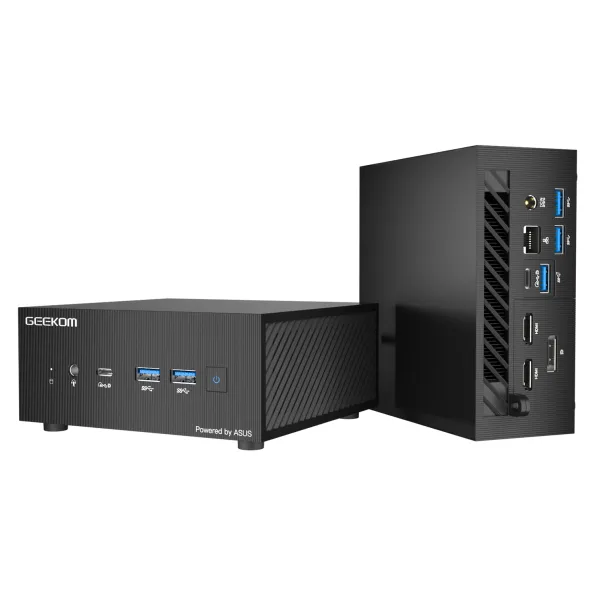 AS 6 specs and features
The AS 6 mini-PC is built on an all-AMD platform, with the option of Ryzen 7 6800H or 9 6900HX processors. The integrated Radeon 680M graphics offer a significant performance boost, with nearly 90% improvement compared to Intel Iris Xe Graphics. The AS 6 comes pre-loaded with software that optimizes wireless connectivity and enables mobile device pairing, making it an ideal choice for those who work or game on the go. It also offers Wi-Fi 6E and Bluetooth 5.2 connectivity, along with dual HDMI 2.1 ports that can be used with the front and rear USB4 ports to create a quad-4K monitor setup. Additionally, it can support a single 8K display via one of its type-C ports and a DisplayPort 1.4 for up-to-5K monitor support. However, none of the display options can run at more than 60Hz.
Smart Fan system and MyASUS solution
The AS 6 mini-PC includes a unique Smart Fan system that can switch between Performance and Quiet modes or be controlled through AI via the MyASUS solution. This feature allows users to optimize the AS 6's cooling system based on their usage, making it ideal for work and gaming. The MyASUS solution also offers a variety of tools to optimize the AS 6's performance and troubleshoot any issues, ensuring users get the most out of their mini-PC.
Price and availability
The AS 6 can only support up to 32GB of RAM but comes with the maximum amount of RAM out of the box. The base model, powered by a Ryzen 7 6800H, starts at a pre-order price of US$659, while the top-end model, featuring the Ryzen 9 6900HX, costs US$90 more. The AS 6 is currently available for pre-order and is expected to start shipping in the coming weeks.
The GEEKOM AS 6 mini-PC is an impressive offering for both work and gaming, providing high-performance computing in a compact package. With its all-AMD platform, integrated Radeon 680M graphics, and Smart Fan system, the AS 6 is sure to appeal to both gamers and professionals alike. Its MyASUS solution also offers a variety of tools to optimize performance and troubleshoot issues, making it an excellent choice for those looking for a powerful mini-PC for on-the-go computing.
Frequently Asked Questions
Who are GEEKOM and Asus?

GEEKOM is not a known brand or company, and there is limited information available about it. Asus, on the other hand, is a well-known Taiwanese multinational computer hardware and electronics company that produces a wide range of products such as laptops, desktops, smartphones, and other electronic devices.

What is the GEEKOM AS 6 mini-PC?

The GEEKOM AS 6 mini-PC is a new product jointly released by GEEKOM and Asus. It is a small form factor computer that is designed to provide high-performance computing for both work and gaming. It is built on an all-AMD platform and comes with an integrated Radeon 680M graphics card for an impressive boost in graphics performance. It also has a unique Smart Fan system and comes pre-loaded with software that optimizes wireless connectivity and enables mobile device pairing.

What are the specifications and features of the GEEKOM AS 6 mini-PC?

The GEEKOM AS 6 mini-PC is built on an all-AMD platform and comes with the option of Ryzen 7 6800H or 9 6900HX processors. It has an integrated Radeon 680M graphics card that offers nearly 90% improvement compared to Intel Iris Xe Graphics. It has a Smart Fan system that can switch between Performance and Quiet modes or be controlled through AI via the MyASUS solution. It also comes pre-loaded with software that optimizes wireless connectivity and enables mobile device pairing. It offers Wi-Fi 6E and Bluetooth 5.2 connectivity, along with dual HDMI 2.1 ports that can be used with the front and rear USB4 ports to create a quad-4K monitor setup. Additionally, it can support a single 8K display via one of its type-C ports and a DisplayPort 1.4 for up-to-5K monitor support. However, none of the display options can run at more than 60Hz.

What is the price and availability of the GEEKOM AS 6 mini-PC?

The base model of the GEEKOM AS 6 mini-PC, powered by a Ryzen 7 6800H, starts at a pre-order price of US$659, while the top-end model, featuring the Ryzen 9 6900HX, costs US$90 more. The availability of the