Photographer and technologist Sebastian Staacks from There Oughta Be has developed a do-it-yourself (DIY) setup to achieve the iconic bullet time effect made famous by the movie "The Matrix." By utilizing off-the-shelf components and innovative processing techniques, Staacks has created a cost-effective solution that brings this cinematic effect within reach for photography enthusiasts and filmmakers alike.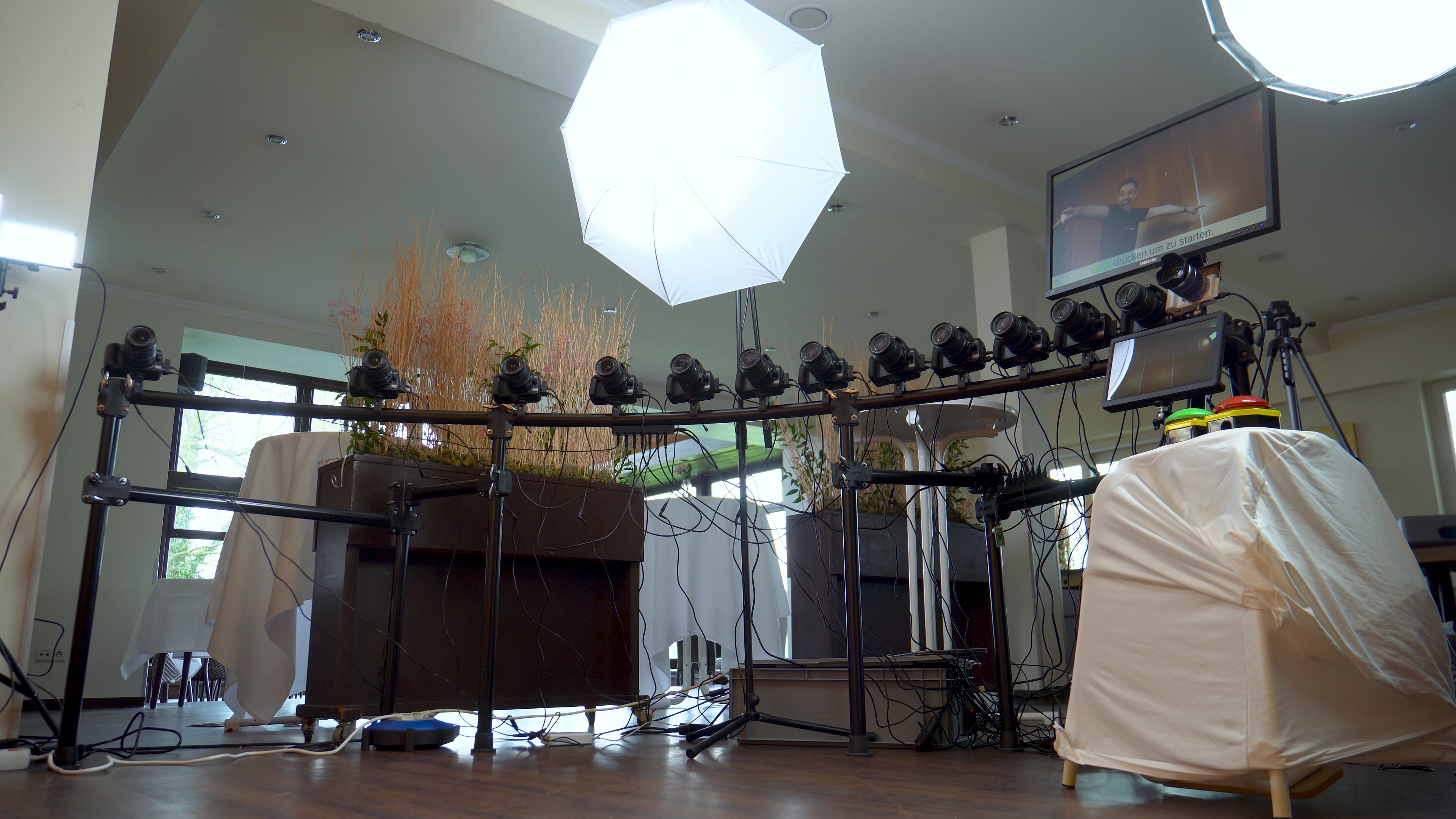 Reducing Costs with Clever Techniques
To create the bullet time effect, multiple cameras are required, traditionally one camera per frame. However, Staacks managed to reduce the number of cameras needed from 25 to just 12. By employing clever methods to stretch the video from half a second back to a full second, he achieved impressive results without breaking the bank. Staacks opted for Canon EOS 400D DSLRs, purchased at a bargain price of $50 each, which offered the necessary remote triggering, focus control, and slightly larger than 4K resolution.
Tackling Power and Triggering Challenges
To ensure uninterrupted operation throughout a wedding event, Staacks faced challenges related to power and camera triggering. Instead of relying on batteries, he utilized mock battery packs that converted incoming USB 5V power to the required 7.2V for the cameras. Additionally, he devised a synchronized triggering system using a Raspberry Pi Pico microcontroller, which ensured simultaneous photo capture across all cameras.
Stitching and Enhancing the Footage
With the cameras capturing photos and the main Sony a5000 providing video input via an HDMI capture card, the next step was to stitch the various sources into a single clip. Staacks used FFMPEG's image stabilization feature to align the footage and then applied slight cropping and blur effects to create the illusion of movement. The final clips were imported into DaVinci Resolve, a professional video editing software, for further enhancements such as motion tracking and frame addition to achieve smoothness.
This DIY bullet time setup opens up new creative possibilities for photographers and filmmakers, allowing them to experiment with this visually captivating effect without the need for expensive equipment. Sebastian Staacks' ingenuity and resourcefulness have made the bullet time effect accessible to a wider audience, proving that innovation and imagination can bring Hollywood-grade visuals within reach for DIY enthusiasts.
Based on the entities mentioned in the previous response, here is a list of frequently asked questions (FAQs) that can provide the information we need:
Frequently Asked Questions
Who is Sebastian Staacks and what is his background in photography and technology?

Sebastian Staacks is a photographer and technologist known for his DIY projects. He has expertise in combining off-the-shelf components and processing techniques to create unique effects. Staacks has previously worked on projects related to photography, videography, and technology integration.

What is There Oughta Be and how are they involved in the creation of the bullet time effect?

There Oughta Be is either a company, organization, or an individual's project involved in the development of the DIY bullet time effect. Further research is required to determine the nature and scope of There Oughta Be's involvement in the project.

What are the specifications and features of the Canon EOS 400D DSLRs used in the setup?

The Canon EOS 400D DSLRs used in the setup are affordable cameras with the capability for remote triggering, maintaining proper focus and white balance, and shooting at a resolution slightly larger than 4K. These cameras were chosen for their suitability in achieving the desired bullet time effect while keeping costs manageable.

What is the Raspberry Pi Pico and how was it utilized to synchronize camera triggers and control the setup?

The Raspberry Pi Pico is a microcontroller board designed for embedded projects. In this setup, the Raspberry Pi Pico was used to synchronize camera triggers by pulling the shutter pins to ground when signaled by the laptop. It played a crucial role in achieving simultaneous photo capture across multiple cameras.

What is DaVinci Resolve and how was it used in the post-processing stage to create the final video?

DaVinci Resolve is a professional video editing software known for its advanced features and capabilities. In the post-processing stage of the DIY bullet time effect, DaVinci Resolve was used to stitch together the camera footage, apply motion tracking, add additional frames for smoothness, and perform other editing tasks to create the final video.