5X5 Brewing has joined forces with UTRGV Athletics to introduce a new addition to their popular craft beer lineup. The klsch style ale infused with a refreshing blood orange flavor made its debut at a recent UTRGV baseball game in Edinburg. This collaboration stemmed from a conversation between George Rice, 5X5's director of operations, and Chasse Conque, UTRGV's Director of Athletics, following a surge in sales during a UTRGV vs. University of Texas baseball game.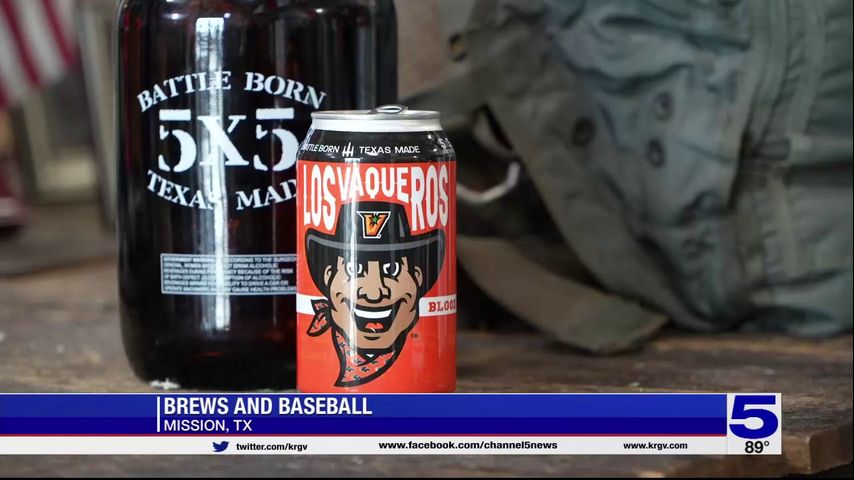 Creating the Perfect Signature Flavor
Rice and Conque brainstormed ideas for a signature flavor that would complement the spring and summer atmosphere at the ballpark and future UTRGV football tailgates. Over the course of a year, extensive work was done to refine and perfect the flavor, resulting in the creation of the "Los Vaqueros" beer.
A Gesture of Support
5X5 Brewing views this collaboration as an opportunity to give back to UTRGV Athletics. As an athletics donor, a portion of the proceeds from the sales of Los Vaqueros will contribute to the athletic department's initiatives and programs. It serves as a way for 5X5 to express their gratitude and support for UTRGV Athletics.
Availability and Distribution
The "Los Vaqueros" beer flavor can be found at various locations, including RGV HEB's, Specs, Total Wine & More, and El Tigre. Beer enthusiasts and UTRGV fans can enjoy this unique craft beer offering at their convenience.
5X5 Brewing's collaboration with UTRGV Athletics not only brings forth an exciting new flavor to beer lovers but also strengthens the bond between the local community and the university. The partnership showcases the spirit of innovation and support for athletic endeavors, providing fans with a distinct beverage option during sporting events and social gatherings. Cheers to the shared success of 5X5 Brewing and UTRGV Athletics!
Based on the entities mentioned in the content, here are some frequently asked questions (FAQs) and their corresponding answers that can provide us with relevant information:
Frequently Asked Questions
What is 5X5 Brewing and what is their craft product line?

5X5 Brewing is a brewery known for its craft beer products. They offer a range of unique and flavorful brews. To learn more about their history, product line, and brewing techniques, you can visit their official website or check out their Wikipedia page if available.

What is UTRGV Athletics and what sports programs do they have?

UTRGV Athletics refers to the athletics department of the University of Texas Rio Grande Valley. They offer various sports programs for their students, which may include basketball, baseball, soccer, volleyball, and more. To get more detailed information about their programs and achievements, you can visit their official website or check relevant sources like Wikipedia.

What is a klsch style ale and what are its flavor characteristics?

Klsch style ale is a type of beer that originates from Cologne, Germany. It is characterized by its light, crisp, and refreshing taste. It often has a pale golden color and exhibits a delicate balance of malt sweetness and subtle hop bitterness. To learn more about the brewing process and flavor profile of klsch style ale, you can refer to beer-related websites, brewing forums, or articles on platforms like Reddit.

What is the significance of "Los Vaqueros" and its connection to UTRGV?

"Los Vaqueros" is a beer flavor created in partnership between 5X5 Brewing and UTRGV Athletics. It is likely that the name "Los Vaqueros" holds significance to UTRGV, possibly representing their sports teams or embodying a cultural reference. To gain a better understanding of its meaning and connection to UTRGV, you can explore online forums, community discussions, or official UTRGV publications.

Where can I find the "Los Vaqueros" beer flavor?

The "Los Vaqueros" beer flavor by 5